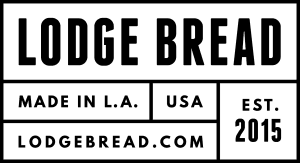 Some companies just can't learn. Yet some companies are just people and they are not willing to learn from an experience. I write about companies when I have a bad experience, I share it, from Sondors Bikes to Forward Not Medical or Spirit Airlines Sucks or Tmobile and MacMall. As a B-labs certified impact driven company and being an investor in dozens of companies are all about customer service. Maybe they ought to create a community focused DAO that guides the destiny of their customer policies, like we teach at Menagerie.is Its a religion around my investments and company based on our mission vision and values here. Not that I am a great CEO, yet I am sure how to guide them. From eBay to Microsoft to Sony, CBS and Nike, for 20 years they often rely on us to tell them what's what and why.
Case in point, I have been hearing about Lodge Bread for years and had to give it a try. I came to learn that it wasn't just a bread place yet a deli. So I ordered a Lox and toast, like nice Jewish boys do, ordered a few loaves of bread from the 2 of 5 that were offered and overall had a lousy online experience, yet if i am going to go off my gluten free diet, it was worth the try.
What I got an hour and 20 minutes later, after the DoorDash app said 40 minutes, was a box or tousled extremely low grade lox, grizzly, almost white, not even pink – some unwrapped wilted pickles with pickle juice just having creeped into my bread, which was soaked with butter soup, which was not mentioned in the menu item, ( I am dairy free), this of course was coupled with a trout salad, also infested with dairy/eff yogurt, also not declared on the menu. Tossed in a cheap cardboard box. What I expected for the similar price was something wondrous like what I get from Gjusta, which can do no wrong in my book. The unsliced bread ( it wasn't offered sliced, yet the owner contends this is always an option), was gorgeous and a delicious decision.
Anyway, disappointed in my first experience, I wrote to the owner on their website and on their instagram, which was responded to 24 hours later. They further don't answer their phone. Either too many complaints, too much business or just don't care. I finally got a text from the owner, a pleasant chap where I shared my story as a former retailer as I know he will only get 1 out of 100 complaints. I spent 30 minutes on the phone with him. My rate card is about $1,000 an hour for consulting, yet this was pro-bono. I offered some suggestions on presentation, pricing, packaging, supply chain review, random checks on customers to see if they were happy. He seemed very pleased I went out on a limb to reach him, promised me a refund, which I did not request and also told me he wanted to make it right on my next order, like with a gift certificate or whatever, I told him it wasn't necessary, yet wanted to make sure his business did a better job in the future. That was September 6th and I have heard nothing from him since.
Disappointed, yet one day I will get some more bread. Anyway that's it. Any my complaint will stand forever and hopefully point the way towards a better future for Lodge Bread.