As CEO of RampRate & SyzygyImpact , Tony has been an idea generator transforming perceptions and industries since he was 17.
The Deets
Under Greenberg's leadership on and off for more than he wants to admit, RampRate has radically changed how IT services are bought and sold, creating actionable, data-driven, sourcing info that has funded funded new projects, saved hundreds of millions of dollars and 1000's of hours of headaches for major clients in finance, entertainment, internet services, media and video games. Microsoft, eBay, Nike Merrill Lynch and CBS have been core clients.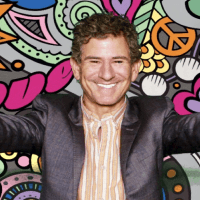 SyzygyImpact, a spinoff from RampRate's strategic research arm, focuses on investments, grants and growth-advisory services for companies in the blockchain, digital media value chain, particularly in mergers & acquisitions, ramp-ups funding plans and mapping to enterprise. An investor and board member in over 30 companies, he is focused on impact design, measurement and reporting, "Elevating the Way Business Does Business"
Greenberg is a charismatic and visionary speaker at technology, media and entertainment conferences (and that darn zoom ) and at colleges such as Harvard University and UCLA. His writing appears regularly in Forbes.com, Psychedelic Times, Huffington Post, Only Time Buys Trust and other outlets. He has frequently quoted in outlets such as All Things D, Business Week, Wired, Computer World, Slashdot, and Ars Technica.
Before RampRate, Greenberg headed the sales & marketing division of Raindance, now Intercall. He previously was SVP of business development and marketing for a next generation media firm and a senior executive at Exodus, now Savvism which went public at a $37b valuation. His early experience was in boutique retailing, direct-response marketing, sales culture, business development and manufacturing through a series of other companies that he founded and later sold.
Shows, Publications & Citations -needs updating
Psychedelic Times – Trolls
About YouTube: Business WeekSeminal paper on network neutrality and gaming
Moderator of panel at Digital Hollywood
Will Hollywood Studios Kill Their Offspring Again?
Credit Suisse Far Better at Analyzing Derivatives Than YouTube Infrastructure Costs
Interview with Digital Lifestyles
Billboard Digital Entertainment and Media Awards
Multiple appearances at StreamingMedia.com events
Amazon Should Prevail In The Race To Acquire Hulu
Amazon to Beat All Suitors For Hulu?
Speaking engagements at UCLA, Pepperdine, Harvard & others
Tony Greenberg's 2008 speaking engagements.
Areas of Expertise
Blockchain, Cloud Services, Healing modalities Disruptive Media Tech, IT Services, Data Center / Co-location/Hosting, Managed Services, Content DeliverN Networks/CDM, IT Procurement, Market Positioning, Business Intelligence, SLAs/Contracts, Business Strategy, Online Gaming, Telecommunications, Technology Risk, "Green" data centers, Net Neutrality, Bitcoin,
Contact
Tony Greenberg
• tony@tonygreenberg.com
Kauai, Aspen and Santa Monica and at large