"The goal as a company is to have customer service that is not just the best but legendary."
– Sam Walton, Founder of Wal-Mart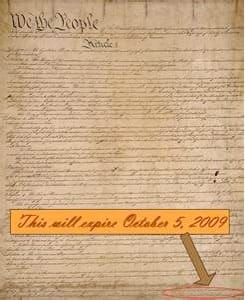 In all the tributes after Steve Jobs' death, one achievement received relatively little attention: the impact Apple Stores have had on his company's customer relationships. Yes, many adore Apple's product (and store) design, integration and ease of use. But if you're not a tech guru (and even if, like me, you kind of are), things still go wrong sometimes. And then you need some help. When that happens, the stores' Genius Bar wizards are there to make using a Mac, iPhone, iPad a friction-free, liquid customer experience. They bring patience and calm and a customer-friendly, problem-solving approach that really buys a lot of goodwill. And the Genius Bar is free. Not Macmall, although I shop there to avoid the crowds. Amazon is the best at creating a friction-free, online shopping experience. Apple understands that taking care of the customer will take care of its own corporate bottom line, so it focuses on ensuring that customers are kept happy. I've used the same approach with RampRate, my own company, where I strive to make every client interaction equally as friction- and pain-free. I just wish that every company understood that and made it a priority, too, and I want consumers to know about companies and industries that don't take care of customers' needs first.
"A customer is the most important visitor on our premises, he is not dependent on us. We are dependent on him. He is not an interruption in our work. He is the purpose of it. He is not an outsider in our business. He is part of it. We are not doing him a favor by serving him. He is doing us a favor bygiving us an opportunity to do so."

– Mahatma Gandhi
Take, for instance, the airline business. Recently, I watched an inspiring documentary about another customer-service hero, Jeffrey Neeleman of JetBlue Airways. Neeleman transformed airline customer service, giving customers more perks and more convenience for less money. Class and creativity sent profits soaring even higher than his fleet. Time and again, this genius reshaped his industry, standing tall for inexpensive, convenient and even enjoyable flying. These guys at JetBlue clearly have bought into the exercise, by motivational speaker Tony Robbins and others, that have participants take a dollar and tear it in proportion to what they think the company should get from a transaction and what the customer should get. Most people tend to tear the dollar around 60-40 for the consumer. Wrong, Robbins would say. It should be 90-percent customer, 10-percent company, at least as far as the customer perceives it. Otherwise, you're ripping the customer off. Virgin America has created a wonderful experience in plus-plus-plus service. It's too bad their arrogance sometimes rubs on the customers.
They are new but trying harder. And then there are the Other Guys, the smarmy flying-carpet snide called Spirit Airlines, where 91% of their clients hate them, the FAA loathes them and who seem to believe more in customer disservice. Spirit bills itself as a ULCC, but tucks enough expensive "gotchas" into its fine print that it ultimately is anything but "ultra low cost carrier." The didn't even make it into the 2011 North America Airline Satisfaction Study by J.D. Power and Associate.
Lets face it, flying sucks. And so does the hassle that airlines create with fee schemes that leave their clients discombobulated and disenchanted. Spirit takes these schemes to new lows. It's like the company has a peculiar mission for its clients: throw 'em the F-bomb. Snare them into a monthly acai diet pills subscription. Offer to unlock a $25 million Nigerian bank account if they'll just send over their contact info.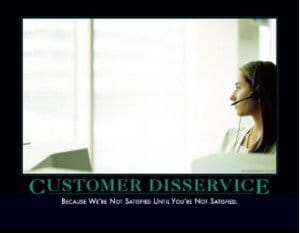 Spirit says it "empowers" customers by giving them a choice of what they pay for. But Spirit's Death by a Thousand Fees approach is the antithesis of Apple and JetBlue. The company is so focused on devising creative ways to shake down patrons with surprise fees that it makes Bank of America look like a charity operation. I believe their next fee option will be: wings or no wings on the plane? How many people know the dispiriting experience they're signing on for when they buy that cheap Spirit fare? Is it really that hard to send a confirmation email when someone buys from the company? When people get to the airport, do most of them know that Spirit allows only one carryon bag for free? That bag also must fit under the seat. After that, it'll cost you $18 to $100 per bag for any more of your stuff.
Once you get on the plane, water is available…at $3 a bottle. Ouch. If I'm choking, what happens then? Do I still have to whip out a credit card to be saved? What's wrong with cold, hard cash on the barrelhead, sawbucks, currency, and legal tender? What's the matter? Don't trust your employees? I can just see the conversation.
Me: " I'm choking, I need some water, NOW!"

Flight Attendant: "Credit card, please, sir!"

Me: "How much does it cost to visit the bathroom?"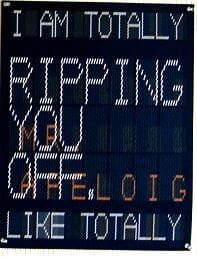 Spirit has no assigned seats, unless you're willing to pay more for the privilege of a guaranteed seat next to your honey. Otherwise, see you on the other side, because you may not be alongside me.
"The nature of any human being, certainly anyone on Wall Street, is 'the better deal you give the customer, the worse deal it is for you.'

– Bernie Madoff

And then there's the $9 Fare Club. It sounds like a great deal: sign up for the trial enrollment and you can buy tickets for just $9. Except, Except, Except…. First of all, the website fine print says you'll get "Member-only fares sometimes as low as $9" (my emphasis added). And not on your first flight. Once you sign up for a trial enrollment, at $19.95, you can't actually get a $9 fare on that flight. You're only eligible for such fares on subsequent flights you might book. And that trial enrollment? It expires in two months, and then you're automatically enrolled for the annual program for another $59.95. And 12 months after that, it automatically re-enrolls you, and bills you, again. And if you cancel at any point, you won't get any of the fee back, even if you cancel one day into the new 12-month period. Spirit says it will try to notify you by email before charging you again, but it's "not obligated to do so." If you cancel by snail mail, it takes four to six weeks to take effect. And if you have a disagreement, "All disputes must be submitted to arbitration in Broward County, Fla."

So, conceivably, you could spend almost $140 in membership fees over 14 months and one day, for the privilege of "sometimes" paying $9 for a ticket. Plus baggage fees for your computer bag, and $3 for water, et cetera, et cetera.

"Quality in a service or product is not what you put into it. It is what the client or customer gets out of it."

– Peter Drucker
One particularly obnoxious little piece of the fine print is Spirit's privacy policy. This is every bit of it on the $9 Fare portion of the website:
"Section 5. Privacy."
"Spirit is respectful of each Member's privacy. The Site contains our full and current privacy policy. View the full privacy policy here." Except the word "here" is not a live link to any privacy policy anywhere else. Furthermore, I actually couldn't independently find the privacy policy elsewhere on the Spirit site. I guess the privacy policy is, um, private. Such a bargain, huh? Contrast this with JetBlue. Prominently featured on its site is a Customer Bill of Rights. Click on it and you'll be shown a lengthy list of JetBlue service commitments, showing what it will pay you if it has a delay, cancellation or overbooking (including a flat $1,300 if you're involuntarily bumped from a flight. Period.)
"Profit in business comes from repeat customers; customers that boast about your product and service, and that bring friends with them."

– W. Edwards Deming
So what do we do about this? Not everyone has the bully pulpit of Adeo Ressi, arrested for not closing his laptop on Virgin or Kevin Smith when they get crosswise with an airline or other company. But we can make sure we arm ourselves with information before we choose the organizations we buy from. We can speak out and let each other know what to look out for. That's one intent of this rant, warning would-be Spirit Airlines customers, so they are clear on what they actually get with that putatively cheap fare. Today, while in Orlando Florida, a magic genie waved his fez and granted me three wishes.
I met a sales pro, which was overviewing the finer details and properties of headphones at inmotion, emphatically advising me after carefully scrutinizing my needs, which explained that people buy from him, not from the web as they trust his judgment and you cant see someone eye to eye. Now there is a reason for me to buy. The miracle? He loved the company and the products he sells. No commision.
As I was so engrossed in the earphone man, I noticed time has run out, I was befuddled as usual, late for a flight and asked the right guy, the head of TSA for Orlando for help. He checked my passport, of course my wallet had been lost for days, and hand guided me through the maze as I explained a legitimate cause (manual watch not changed from last week DST). I sailed through security like a butterfly.
On to the gate. Closed. Accordion staircase removed! Jet leaving. I waited 5 hours for a flight to join Virgin in their new fangled jets and service. Closed. But then, as a higher power reached down, Paul, the door steward, grabbed my bags and said " Fly with me", and proceeded to gather his team, let the ramp back on the plane and greet me a good trip. Great things happen to great people. Paul, you are my hero. And the answer to anyone even thinking about flying anything without a V on its name.
More importantly, it's paramount that I continue to encourage companies everywhere to bravely do what successful Internet companies do: sell dollars for dimes, live daily in the life of its customers, release frothy margin from big business and drive a bottoms-up Cluetrain Manifesto dream "markets are conversations". Listen up and create a friction-free business. If you are the best at creating just that, you get to take home the bacon and rejoice. But we need to keep this up. Write me tony@tonygreenberg.com with your stories about airlines and other companies that don't take care of their customers. The more we talk about these, the more companies will understand the consequences of treating customers like cattle or chattel, instead of their most valuable resource and their company's future.
"It is not the employer who pays the wages. Employers only handle the money. It is the customer who pays the wages."

– Henry Ford