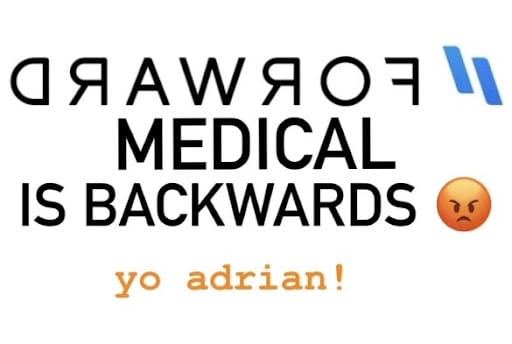 Hey Adrian Aoun, CEO of Forward Health. Call me. I am a real live 4-year customer, client and patient of your chain of doctors offices, charging me a $150 monthly fee on top of my excellent insurance. Forward is tech-heavy, with gizmos and gadgets aplenty, whosits and whatsits galore. Yet no one seems to own a phone. Your doctors never call me, your nurses never call, your customer service never calls back. But will you delete me as a client or will you actually make the effort to better yourselves and your business. Even Joe Rogan knows how to apologize.
Can I mail you a quarter so you can use a payphone?
UPDATE: THERE ARE SO MANY CREDIT CARD CHARGING INCONSISTENCIES BEING REPORTED TO ME- LATER! There is an outpouring of unhappy customers I am fielding. I am surprised at my current interactions with Adrian, more later.
Since no one calls me, I'll just write here on the Interwebs that your company, which is now valued at over $1 billion, is not very good. If you're worth a billion dollars, you might want to ask yourself: how are you gonna heal millions of people? By when? And how will you measure it? Your tech is a facade, your clinics are understaffed, your client rolls are overbooked, and your online reviews are tanking. Everyone reading this article should ask the board members of this unicorn what in heck their motive is. You have nice wood paneling, though. Marc Benioff, your humble and humanitarian board member can't tolerate your customer service, can he?
Is the plan just a quick ramp-up and a fat exit? Looks that way. Forward's ads are plastered all over YouTube, TikTok and Instagram. (And how many days in a row are you going to assault me with ads saying "limited time offer of $99, ends tomorrow"?) Your clinics have the tall windows and iPads of an Apple Store with a "body scanner" that looks like a teleporter and full-wall computer monitors that look like Captain Kirk's or the matrix which never really existed.
But we live in the age of spin. Everyone on TikTok is sticking out their chins and sucking in their guts. Millions of 50-year-olds without jowls.
This fakery is bad enough when we're talking about Instagram influencers. It's not OK for companies that claim to be in health care. Forward is photoshopping out its flaws like a Kardashian.
Flesh and blood can't be fixed with a filter.
Forward's whole gig is trying to replace humans with tech; to have routine parts of care automatized and outsourced to an app.
Forward has some positive aspects. They:
Get amazing blood work paid for by the insurance.
Process claims like a pro.
Have all your health data in an app that can be exported in less than a minute.
A 24×7 prescription service that sends scripts to most anywhere in the world.
Like other sectors that swap tech for humans—customer service, say—the product doesn't always get better, just cheaper for the company.
For example:
The Star Trek's style "body scanner" is cool. But my vitals could have been gotten just as easily by a human with a thermometer, pulse oximeter, and a scale.
All my chats with providers are funneled through your app, which is kinda cool. I get quick answers from nurses via text bubbles. But the app asks me endless questions, and there's no button for "call me!" The app is old, cumbersome, creaky, and with disappearing messages and a weird UI. (Not to mention, it's ANOTHER app. My whole life is pressing buttons on my phone. I haven't looked a real person directly in the face since 1994.)
You can't get an appointment with a doctor when you need one. Last few times I had a health issue, appointments were eight days out. You can wait eight days for a spa treatment or a haircut, or a carpet cleaning. Sickness needs help today.
Your docs don't understand longevity, advanced care, DNA, nor synthesis of supplements against biomarkers, nutrition and broader health, functional health and healing, or anything much more than a lazy country doctor.
You have no network of doctors. You seem to pull referrals out of the yellow pages.
These doctors sometimes aren't open for business, don't take my insurance or are really irrelevant to my needs. (I have complained about this to Nate Favini, your client care executive who does little to make things better. Maybe he's just there to placate easy customers.)
Yo, Adrian! Easier access to a doctor is the promise of concierge medicine, which is what you are. (Though you claim you're not.) Why not spend a little of that easy Silicon Valley moolah on MDs, PAs, NPs, RNs? Or would DOs and EMTs hurt your ROI?
Your mission is: "A world where everyone has access to the best medical care available." Start by defining "care." Then define "available."
Adrian, do you read these scathing reviews from your treasured clientele that enabled you to raise all that money? On Yelp, clients call you a "marketing scheme," the "usual tech-startup charlatans with a sexy webpage, aggressive Facebook / Instagram advertising … for nothing else than digital snake oil in return." Are they lying just like your employees on Glassdoor about how bad it is? Reminds me of a few articles I wrote years back on MacMall and Spirit Airlines, both horrible companies.
You've rightly pointed out that our healthcare system is broken. It treats sickness and doesn't aim at health. Other companies see this, too, like AccessElite, an employer-centered wellness platform, or Carbon Health and OneMedical, which promote convenient telemedicine appointments. They execute. Parsley Health seems to be in the business of healing people, more than offering unlimited visits for just about the same price. Their employees seem to love them.
Maybe having your doctors and exec team learn from masters of the universe like Peter Diamandis, Jamie Wheal, or Oz Garcia can bring you into this century of healing.
HOW FORWARD MUST IMPROVE (and I will take this post down or edit positive)
Create a service-level agreement spelling out which exact things I'm guaranteed. How long will it take to see a doctor? To get a prescription refilled? To get a vetted referral?
Take some of the millions of dollars you're spending on social media ads and staff your clinics.
Take one complaint as it represents 100 unhappy patients, and look at who quits and you never hear from, the unhappy disgruntled thousands
Do you think you are delighting your clients? Or do they just stay with you as you are the only restaurant in town? Have you ever surveyed them? Or do you just keep treating them like gym members, who keep paying whether or not they ever show up?
What is your social impact strategy, how will you allocate services to pay off your mission?
Tony Greenberg is a mission-driven human and life-long entrepreneur, the founder of Syzygy Impact and RampRate, a private equity / foundation, a top strategist for Fortune 500, and now fosters and grows projects with transformative potential, including blockchain technologies that democratize access to investment and reduce the potential for corruption, "Elevating the Way Business Does Business." In healthcare and alternative medicine, he is an investor in Tripp, Wave of Canada, Radicle Science, World Back to Work, Beckley Psytech, Paul Stamets' Mycomedica, and others. Recent articles: tribal reciprocity , psychedelic patent trolls and covid deniers and wherever fine internet is sold.
*Forward Medical Board Members: Brian Singerman Kavitark Shriram Keith Rabois JD Lynne Benioff