Precious, Priceless, and Precise. Origen in the Oaxaca city core. If Thomas Keller, Wolfgang, Nobu, Emeril, Julia Child and James Beard had one night in Oaxaca, there would be no choice but Origen. This is new new Oaxaca.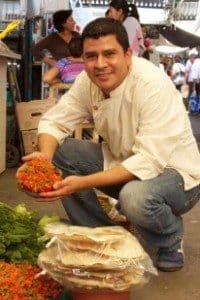 We live through stories; experiences shape our minds and live in our soul. This story starts with a brilliant artisan chef who weaves together fascinating herbs, discerning spices, nuanced essences and preparations to palpitate ones heart. The story continues as we peer into the kitchen, whose largess is grander than a 2 star Michelin kitchen. There is an uncommon sense of calm, akin to an artist's studio. Plenty of room to think breathe and create little pieces of wonderment for the special spaces within this jewel house. The front room soars in height, opening to the sky- maybe 10 tables, the private room for 20+ is fit for a king and the small cubby café brings its own rustic flair. On with the tale.
There is a gracious host who explains the crafts and offers an artisanal local beer. Next he drops off a mess of house maize crackers and a mysterious smoky orange Canario pepper emulsion, a simple symphony of bold Oaxaca flavors. The huge chalkboard of the daily treats is more like a canvas or scroll than a menu. As a finicky diner, whose diet is mostly vegan with a bit of fish and seafood; the workarounds were curious and well thought out. My companion sought the foie gras and suckling goat.
The chef /owner, Rodolfo Castellanos Reyes, who serves most of the meals, came back to his homeland after excelling in culinary hot spots in SF like Jardinière, La Mar and Chez Papa. Upon his recommendations, my journey continues with brazen chili massaged pulpo or octopus, slow cooked for hours and sided with purselane greens, local herbs and a lively pool of CHILE COSTEÑO ADOBO. On to the Arborio risotto, specked with Poblano peppers and grapes, al dente, complex and herbaceous. The snapper was beaded with a smooth creamy romesco, romerias and quinoa. For texture, twas like a sous vide first punch then hot grill for the finish. Lovely. All paired with a unique mezcal and a story where each libation and ingredient was born and created.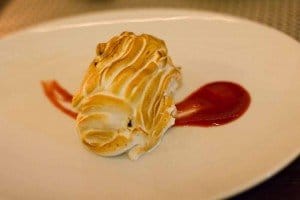 We end the journey with sumptuous sorbets, a house made cacao chocolate round with hazelnuts and a heavenly merengue atop a chilled thin textured cake. There is clearly a missive a mission and a purpose. I will learn the rest of the story as he teaches me to cook in his space this week. Oh and what would I do with the rest of the $100 bill that wasn't spent in this sumptuous place. A cocktail and cigar? I can't wait to see what he dreams up when the budget doubles per table.
The Oaxacan cooking class? The next morning, Rodolfo shaped my mind into the meal we were about to prepare as we roamed through the central farmers market, trading coins for spices, fishes, stories, veggies and secret herbs. His laser focus and knowledge of his tools, spices and food were just what I needed to understand that recipes are nothing and soul is all. Its time for biking, so we will just have to share the lesson another day.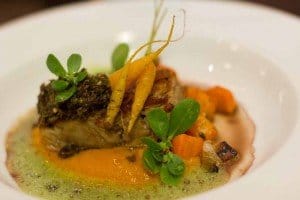 Hidalgo #820 Col. Centro, 68000 Oaxaca, Oaxaca+52 951 501 1764 Facebook here
Enjoy.
TIGER MILK INGREDIENTS: • 1-cup Key limejuice • 1-cup fish stock • 1-cup fish flesh • 1 cup of ice • 2 cloves of garlic • 1 stick of celery • 1 tablespoon minced ginger • 2 tablespoons of salt • 1 tablespoon chopped red onion • 1 tablespoon chopped cilantro • 1 tablespoon chopped habanero Chile.
PROCEDURE: Mash all ingredients in blender, grind a few seconds, and leave the mixture in the refrigerator with some ice for 30 minutes Partridge Segueza 1-liter vegetable stock 12 Chiles dry water, guajillo, and red chilhuacle, coastal 1 sprig of hoja santa, cilantro or pitiona 5 red tomatoes 2 cloves of garlic ¼ white onion Roasted corn ½ 1 Chayote 2 white potatoes 6 green Beans 1 pinch oregano 1 pinch of cumin 4 peppers 2 cloves
For segueza, cooked corn, vegetable broth with roasted corn hata that smooth. Toast the dried chilies and mix with spices, roasted tomatoes and grilled onions, vegetable broth moisturize all dry ingredients are toasted after all, grind and add to the corn mixture and add a cooked tostado hoja santa for perfume. Season well after 20 min. Serve with steamed vegetables or grilled.
GUIDING SOPA INGREDIENTS: • 4 corn tender • 2 1/2 liters of water with salt • 2 cloves of garlic • 1 onion • 12 guides tender pumpkin • 5 tender zucchini, thickly sliced • 1 bunch of squash blossoms, washed clean and well • 4 tablespoons chepil leaves (optional), ceviche, piojito • 1 bit of oil, salt to taste • 1/4 kg. Dough for tortillas • 2 tablespoons oil or fat, salt to taste.
PREPARATION: Cook the corn in enough water with salt, garlic and sliced ​​onion, add the guide strand and ahuates clean, cut into pieces, slices of pumpkin, squash blossoms and leaves. Stir the dough with butter and salt: to form small balls that are shaped plunging the little finger so that they cook better. Place the balls in the soup, one by one and simmering. Two corn shelling and grinding in a cup of broth, add to soup to thicken. Serve with pasilla Chile sauce and sliced ​​lemons.